Mario's Seawall Italian Restaurant offers a host of Catering & Banquet options to fit any event. Please call the restaurant at (409)750-8888 for additional details or information. Click the links below to download and/or print our catering and banquet information.
Banquet Office: (409) 750-8888

Fax: (409) 763-5835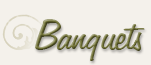 ---
Mario's Seawall Italian Restaurant now offers several options for your banquet needs, casual to "Black Tie". Our new banquet facility offers a beautiful Gulf view with tantalizing Italian dishes. Upstairs will accommodate 120 guests for buffet or a seated dinner. A fine selection of wine and a full bar offering expertly prepared cocktails is available to complement your dining selection.
The banquet room can accommodate company parties, reunions, birthday parties, wedding rehearsals and more. It is perfect for high energy or more intimate events. Audio/Visual equipment is available.
Please call for menu selections for any occasion, including out of house catering. Mario's Seawall will help you choose your menu and work with you with your special needs. Menu pricing is per person.
A $250 deposit will be required at time of booking and will be applied to your final bill. All deposits are non-refundable in the case of event cancellation. In case of event cancellation, one-week notice prior is necessary. Deposit can be applied to a rescheduled date within a 6-month period. We will hold the deposit until that date. Sales tax, gratuity and a set up fee will be charged to all banquets. Payment is due at the end of your function unless prior arrangements have been made.

---
An Overview of Mario's Seawall Italian Restaurant Off-Premises Catering Services...
Servers: 20% gratuity based on total of food & beverage sales

Bartender: $ 17.50 per hour, plus 1 hour set up and 1 hour breakdown

Rentals: Plates: $1.25 each

Dessert Plates: $.80 each

Silver: (fork, spoon, knife) $1.00 per setting

Dessert/Appetizer Silver: $.50 each

Glassware: Wine $.75 each

Water/Tea: $.50 each

Linen: We will provide linen tablecloths & napkins – cost according to guest count and color choice, White Napkins: $.18 each / Tablecloths: $2.00-6.00 each depending on table size

Liquor: We need one week notice to supply bar due to license requirements

Table and Chairs: $9.00+ Set up fee according to guest count and table size

Security: Each location is different, Please check with their guidelines
Banquet Office: (409) 750-8888

Fax: (409) 763-5835

---
Are you thinking about planning a party with us? For more information, click
here
!